SADDAM CAPTURED!
I woke up this morning to the news that Saddam Hussein has been captured. What wonderful news! Let's pause for a moment to enjoy it.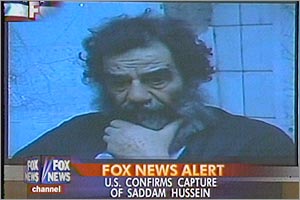 Okay. I also woke up to hear the news media spinning it as it "Yeah, but it's not that big of a deal! There's still going to be insurrection!" Not all the media, but I've heard it from about five reporters or pundits already.
On NBC, Campbell Brown said, to Tom Brokaw, "This is a big victory for the Bush Administration." And Brokaw, bless him, said, "This is a big victory for the Iraqi people", and went on to discuss why that is true. I guess now I'll be watching Brokaw if I have to watch any of the network newscasts. Meanwhile, someone needs to slap Ms. Brown.
While I wish Saddam was dead, I also see the value in the Iraqi people trying and convicting him. And the image of Saddam meek and disheveled in the hands of the Americans has to be very powerful for the Iraqis and the Arab world in general. I'm so proud of our military, but I'm also so very happy for the Iraqi people. This, I think, is a turning point.
Here are the articles: Fox News, MSNBC, CBS News, ABC News, the NY Times, WaPo.
UPDATE: Jeff Jarvis has a summary/transcript of the high points of the press conference, and excerpts from Iraqi bloggers with links.
I suggest you keep an eye on Jarvis's Buzzmachine - he's the one who's stayed in closest contact with the Iraqi bloggers, and will likely be the first with news and summaries from them.
God bless the Iraqis. God bless America.
UPDATE: This is going to come up a lot, so let me just link it now. Jason Steffens has a very worthy sentiment, urging that we pray for Saddam and decrying the joy in his ill-fortune to be captured. It's a good thing to pray, always, and concern for another's soul is likewise a good thing. However, God is not a pacifist when it comes to excising evil. For those who are interested, my comment on Jason's post quotes and links several passages about God's reaction to evil, and also points out that governments are God's instrument of justice in many instances. That's to head off anyone who starts quoting, "Vengeance is mine, saith the Lord" at me. Yes, I shouldn't wish horrific torture and debasement on Saddam - more for my sake than his - but don't forget that God is not easygoing about evil, and Jesus was not an effete blue-eyed ascetic. He ran blasphemers of God's house out of the place, overthrowing their tables. And David, who is called "A man after God's own heart", was also a warrior. Toughness is not anti-Christian.