It's not about which side, but which butter?
My brother has three pear trees in his yard; earlier I posted a photo of pears all but dripping from it. This weekend he and his wife Traci made a lovely pear butter from fruit from the trees, so I naturally was inspired to do so myself. Operating on my life's guiding principle - There's nothing that can't be made harder if you put your mind to it - I decided I too would make pear butter, but I would make a double recipe so I could give some as gifts.
If I could embed one of the IM chat smiley icons here, I would. And not the smiling one, either - the one with exposed, gritted teeth where you can almost hear the "grrrrrrrrrrrrrr".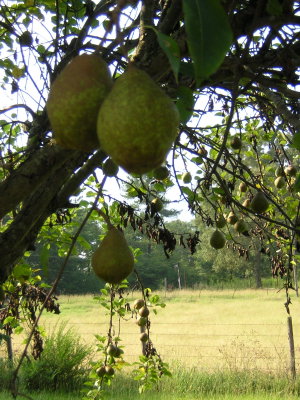 I don't know what kind of pear tree he has, but even when the pears are ripe they're hard as basalt. I wouldn't feel out of place showing up with an apron full at a reinactment of Shirley Jackson's "The Lottery". But the pear butter they made was quite delicious, so I dutifully trotted out to their trees after church on Sunday and filled a plastic bag with 40+ rocks pears. They sat in the back seat of my car for 24 hours as I did other things, but even baking in the Alabama heat didn't soften them any. I finally got around to peeling them about 7 or 8 last night, and it. took. forever. By 9 or so I had a huge pot, a gift from a COTB reader, three quarters full sitting on my stove. In went the water, on went the heat. I thought to ask my brother online how long it took his to cook down to soft applesauce-y consistency. "A long time," he said.
Try "three hours".
I stirred periodically, washing dishes and installing dozens of books in my new bookshelves in the interim. It simmered with little pops of scented air until I came to stir, then it would begin boiling volcanically around my spoon. Hot pear butter popped everywhere, including on my hand, until I resorted to hiding behind a skillet splatter screen and using a hot mitt on my stirring hand. Finally about midnight I took a potato masher to them to see if that would speed things along. It seemed to help, and while it was a bit lumpy, everything was at least softened and susceptible to mashing. In went 8 cups of sugar, a teaspoon of nutmeg, an undetermined amount of cinnamon but probably twice that, and 2/3 cup of orange juice. Mmmmm. It smelled like the spiced tea I make during the holidays.
I continued to stir.
And stir.
And. stir.
I'm not one to follow a recipe that says "stir constantly" if I can't see a reason to, and I didn't here. So it was back and forth again, doing other things, as the time crept to 1 a.m... then 1:30... The recipe said to cook it "until thick enough to roundup on a spoon". What does that mean? I thought a "roundup" was what you do with cows before you sell them. I stirred some more, vaguely thinking I'd stop when the consistency appeared like apple butter. I never reached a point where I thought, "this is perfect". I reached a point where I thought, "One more stir and it's going to get poured on the rampaging tomato plants outside." That was when I turned off the heat.
But I wasn't done. Oh, no. This was canning, something I'd helped my mother with many years ago but had never done myself. I hadn't even watched my brother do it. I discussed it with my mom that afternoon, who said since I didn't have a rack for my pots to keep the jars off the bottom of the pan, to put folded dishtowels in before the jars. I said, "Put dishtowels in to boil?" Then I realized, um, Susanna? Boiling clothes used to be how they did laundry. Hello!
I had washed my new half-pint jars, lids and rings earlier, and they waited in neat regimented rows on top of the washer and dryer. Very carefully I filled each with dark brown pear butter, screwing on the lid with the ring and nestling it on the folded dishtowel in the pot. I filled the pot with water, as per instructions, to 1/2 inch over the top of the jars, and set it on the burner on high. I did the second pot - it took two to hold everything - and went back to mucking in my junk room (aka guest bedroom when it's cleaned) with periodic visits to make sure nothing exploded. It only had to boil 10 minutes, but I have a short attention span. I couldn't stand and watch that long. The pear butter had one last fun moment for me: The first time I came back to the kitchen, one of the pots was boiling rapidly and gouting sprays of water from around one side of the dishtowel. The floor, stove, and countertop were soaked with hot water. Hahaha! Just what you want at (checking clock) 2:30 a.m.! A quick shifting around of things took care of that.
Finally at 3 a.m. I had three neat rows of jars on the washing machine again, this time full of lovely pear butter. And it really does taste excellent. I went to bed exhausted, mindful that today I have a job interview at 11, lunch with a friend at 1, and a class to teach at 6:30. Why didn't I start the pear butter earlier? But at least this morning when I came into the kitchen to see my beautiful pear butter, every jar had sealed.
Maybe it was all good after all.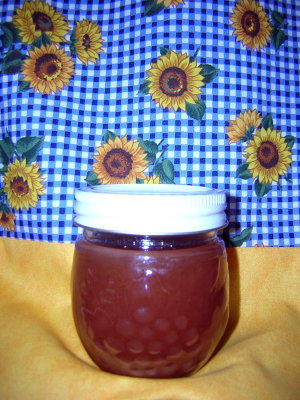 I might just call to your attention that the pear butter is sitting on the edge of my kitchen curtains, which I made last week.
UPDATE: It's a good thing I stayed past the time I meant to leave this morning, working on this post. I just got a call saying that my interview is canceled and will be rescheduled. Maybe I'll go back to bed.
After making some hot biscuits to eat with pear butter.